Kate Worley (1958-2004) DEP
Kate Worley, creadora y escritora del estupendo tebeo Omaha, The Cat Dancer, falleció el pasado fin de semana a la edad de 46 años tras una larga y dura lucha contra el cáncer, al que lamentablemente no pudo vencer.
Aquí os dejo un texto extraído de la web americana Newsarama: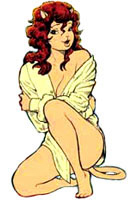 KATE WORLEY, RIP
While she had most recently made headlines again with her battle against cancer, Omaha the Cat Dancer's creator Kate Worley lost her battle with the disease over the weekend.
Worley wrote Omaha while Reed Waller illustrated. Worley was married to Jim (Kings in Disguise) Vance, and together, the couple have two children. She had justt recently began work on Omaha again, finishing the story for Les Humanoids.
Omaha was, in the eyes of many, one of the early prioneering independant books aimed squarely for an adult audience due to both its mature subject matter as well as frank and open sexual storylines and imagery.
El mejor homenaje que podemos hacerle es volver a leer sus tebeos, que a mí personalmente me gustaban bastante. Descansa en paz, Kate.

Escrito por Javier A. en 7 de Junio 2004 a las 11:59 PM